Aluminum Melting Anti-oxidation Coating Graphite Rotor
Product Description
Aluminum Melting Anti-oxidation Coating
Graphite Rotor
  Graphite rotor/degasser, which is made of high purity graphite. The quality of graphite can affect the usage life of rotor. Our product has the anti-oxidation protective coating, so the usage life will be extended to 50-60 days.   Proprietary technology
Working description of graphite rotors: Graphite rotor is make up the shaft and blow head.The rotary rotor breaks the insufflated nitrogen (or argon) in the Aluminum fusant into numbers of dispersing bubbles, which are spreading in the metal liquid. As a result of gas partial pressure difference and surface absorption, the bubble absorbs the hydrogen and oxide and removes the gases out of the fusant as it rises, so as to purify the fusant. The bubble is small and dispersing, mixed well and twistly and slowly rises with the rotary fusant, keeps a long touch with the fusant, so the airflow will not arise and the purifying performance can be notably improved.    Usage technique of graphite rotor operation:  Preheating first before usage: reheating 5min-10min on above of liquid level 100mm before immerging graphite rotor into aluminum fusant, avoid of effect to material from emergency cooling. And before immerging the rotor into liquid , gas must be put in, stop inputting gas after putting forward the rotor, in order to avoiding jam from air hole of rotor spray nozzle.   Graphite rotors, impellers and shafts for aluminum gas injections systems, has the following Advantages: 1. Excellent oxidation resistance 
2. Rotor designed for good gas dispersal 
3. Vane rotor to reduce bubble size for better hydrogen removal 
4. Efficient removal of hydrogen and unwanted particles 
5. One piece construction  6. Long time durable, cost effective
Applications  For aluminum liquid agitating inside furnace; matching graphic rotor in aluminum industry. In the aluminum and zinc casting industries, nitrogen, argon or carbon tetrachloride are injected and sprayed into molten metal through graphite rotors for dehydrogenation. It can eliminate the bubbles inside the castings and improve their inner quality. Injects inert gases into the Metallic solution 
Typical sizes 
- Graphite rotor rod: Diameter: 50 - 150mm Length: 500 - 1200mm 
- Graphite rotor head: Diameter: 100 - 300mm 
- Or as per the customers' requirement. 
  Graphite rotor is an appropriate product which could be used in depuration to dispose hydrogen of Aluminium melt. 
1. Application medium: Aluminium melt 
2. Application temperature: ≤ 800degree celsius 
3. Rotating Speed: ≤ 750 rotations per minute   Specification of Tennry Fine Particle Graphite Rotor  
No.

Density

Porosity

Compressure strength

Blend strength

Specific

Resistance

Ash Content

Graininess

g/cm3

%

MPa

MPa

μΩ.m

%

Mesh

≥

 

≥

≥

≤

≤

 

TX165

1.65

30

26

14

9

0.3

1,2mm

TX172

1.72

20

34

18

8.5

0.3

0.8,2mm

TX175

1.75

16

45

24

8.5

0.3

325mesh

TX185

1.85

11

62

36

8.5

0.3

325mesh
    If you are interested or need the rotors, pls. kindly give us the drawings and your requests. We are glad to give the quotation for your reference and supply you the high quality products.    The Impellers of the Graphite Rotors: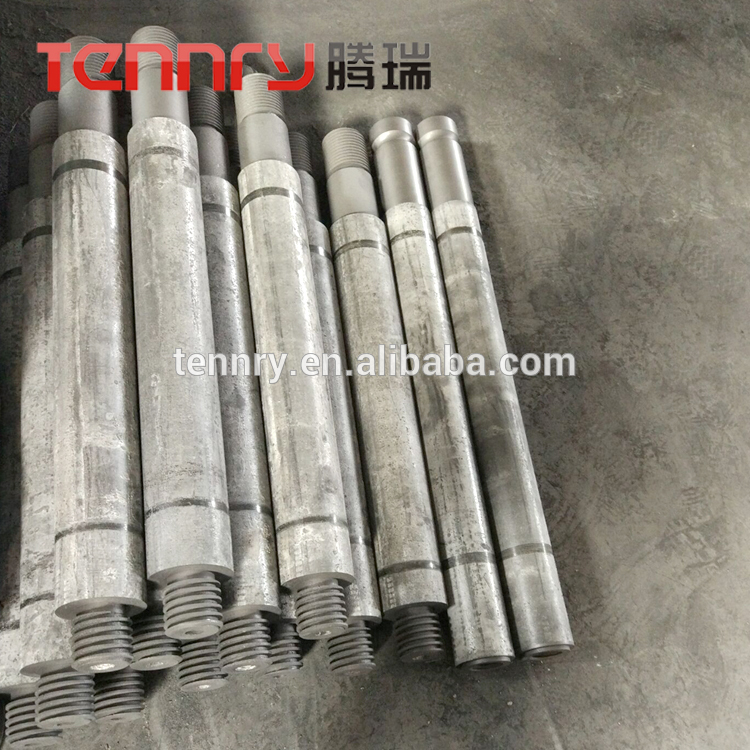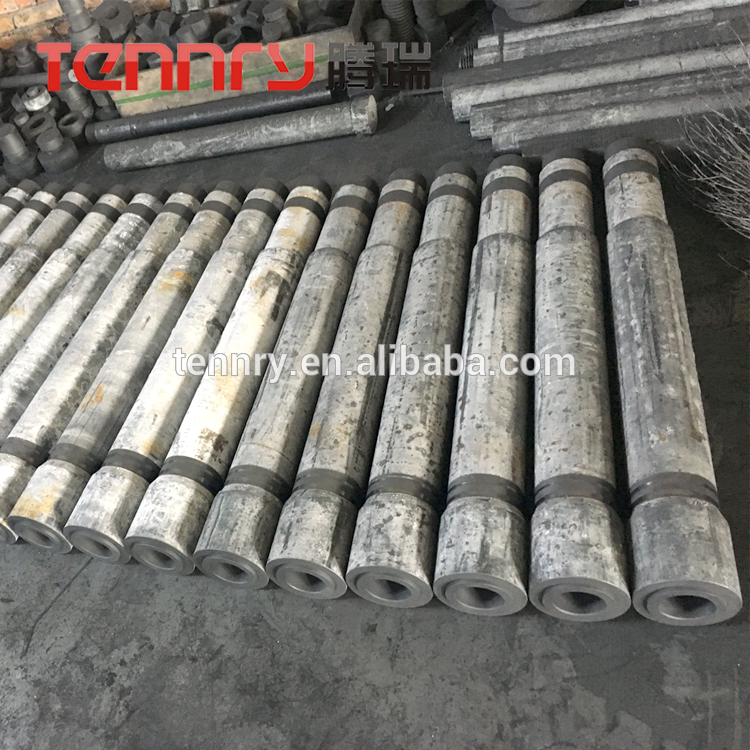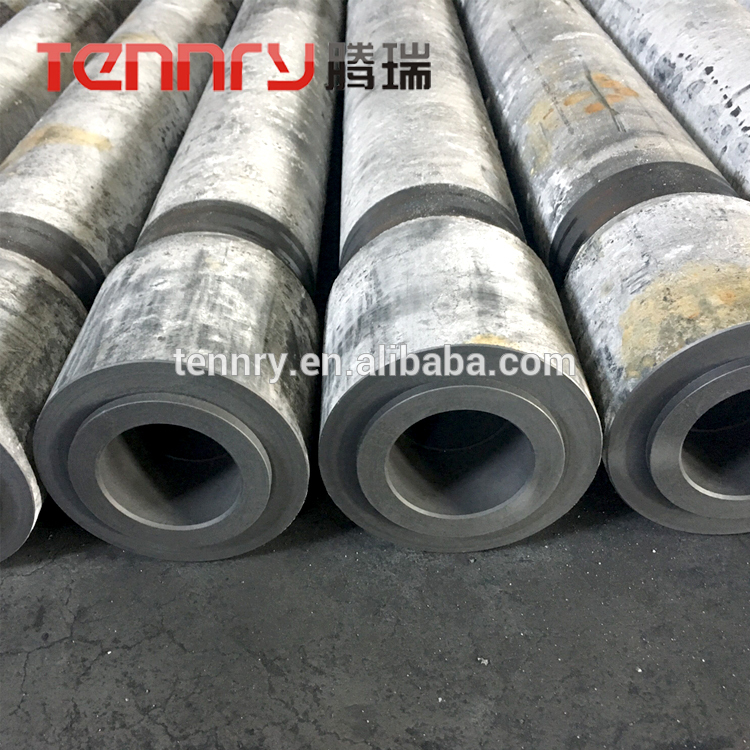 Company Information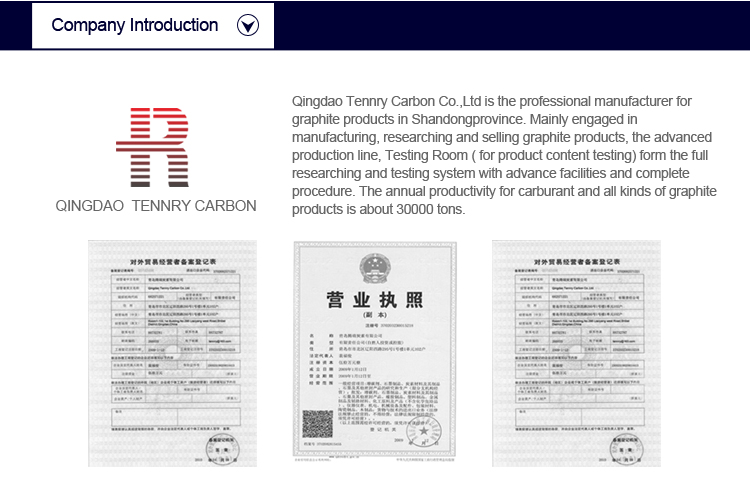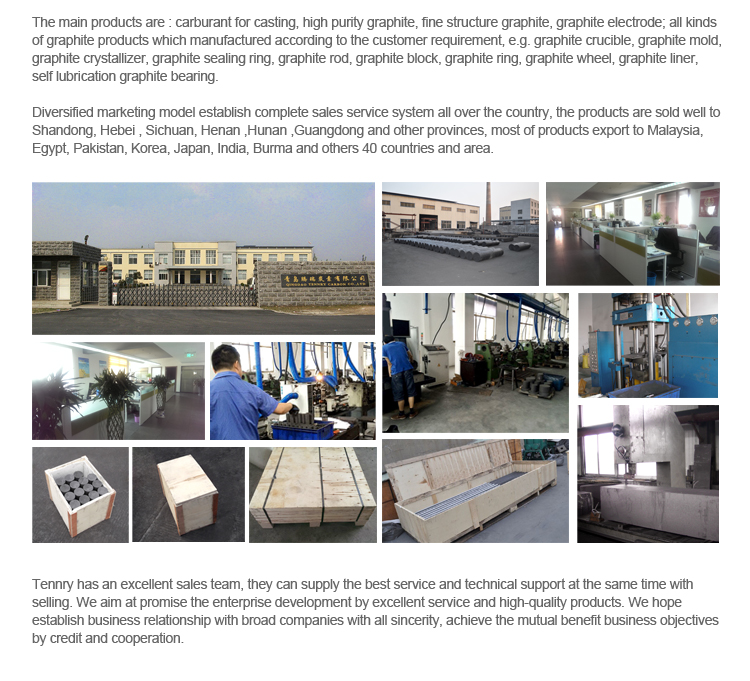 Product Uses  
Product Name

Industry

Application

Crucible,Boat,Dish,etc.

Metallurgy

Melting,refining and analysis

Dies,Molds,Ingot Chassis,etc.

EDM graphite electrodes,semiconductor manufacturing,iron,steel and nonferrous metal making,continuous casting,metallurgy pressing machine

Graphite Roller,etc.

Heat treatment of steel plate in furnace

Conduit,Skateboard,etc.

Aluminum molding

Graphite Pipe

Guard pipe for measuring temperature,blowpipe,etc

Graphite Block

Masonry furnace and other heat resistance material

Chemical Equipment

Chemistry

Heat exchanger,reaction tower,distillation columns,absorption equipment,centrifugal pumps,etc

Electrolytic Plate

Salt solution and baking molten salt electrolyte

Electrolytic Mercury

NaCI electrolyte

Grounded Anode

Electrical anticorrosion

Motor Brush

Electricity

Commutator,slipping ring

Current Collector

Skate,slide,trolley

Contact

Switches,relays

Mercury Ferry And Electronic Pipe

Electronics

Anode,grid pole,repeller pole,ignition pole of the Mercury rectifier and anode,grid electrode

Graphite Bearing

Machinery

High temperature resistance sliding bearing

Sealing Element

Sealing ring,stuffing box seal,packing seal

Product Element

Braking in plane and vehicle

Nuclear Graphite

Nuclear Power

Deceleration materials,reflective materials,shielding materials,nuclear fuel,support devices,etc
    FAQ   1.When can i get the price? We usually quote within 24 hours after getting your detailed requirements,like size,quantity etc. If it is an urgent order, you can call us directly.   2. Do you provide samples? Yes, samples are available for you to check our quality.  Samples delivery time will be about 3-10 days.    3.What about the lead time for mass product? The lead time is based on the quantity,about 7-12days.For graphite product,apply Dual-use items license need about 15-20working days.    4.What is your terms of delivery? We accept FOB, CFR, CIF, EXW, etc. You can choose the most convenient wayfor you. Besides that, we can also shipping by Air and Express.    5.Product packaging? We are packed in wooden cases, or according to your requirements.   6.Notice Please note that the price on alibaba is a rough price.The actual price will depends on raw materials, exchange rate ,wage and your order quantity .   Hope to cooperation with you,Thanks !   Our Services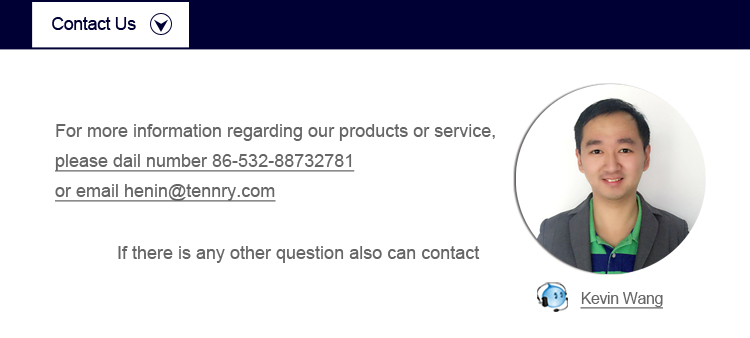 If you want to know more about us,please click here to our main page Contact us if you need more details on graphite rotor. We are ready to answer your questions on packaging, logistics, certification or any other aspects about graphite degassing rotor、antioxidation coating graphite rotor. If these products fail to match your need, please contact us and we would like to provide relevant information.
Product Categories : Graphite Rotor